HOME > KEIKIインターナショナルスクールブログ > 8ページ目
KEIKIインターナショナルスクールブログ 8ページ目
In our morning lesson, we practised writing and made dolphin prints on paper shirts.
We will be opening a restaurant soon! Hence we pre cooked the menu and tasted it!
Today's phrase is "May I have the pan please?"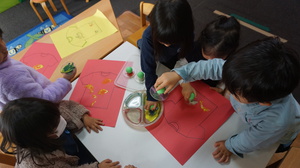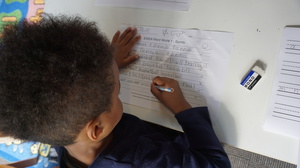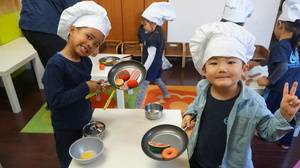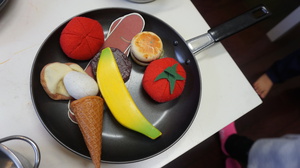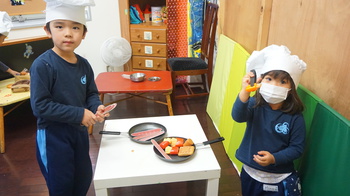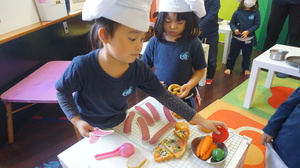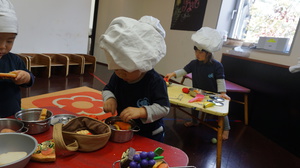 IT'S CRAFT TIME!
Today's craft was very cute and scary.
The ladybug and butterfly 3 made sock dolls while the butterfly 2 and caterpillars made leaf monsters.
Today's phrase is "How many do you want ?" and "What did you make in craft class?"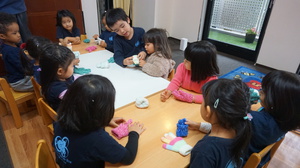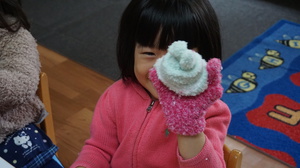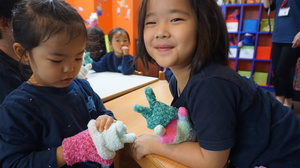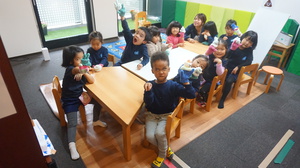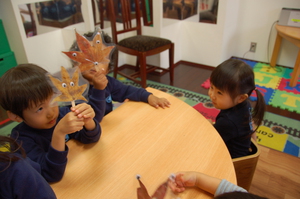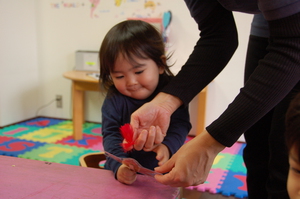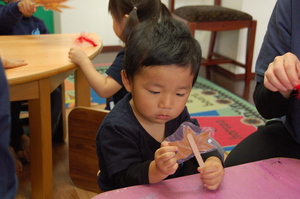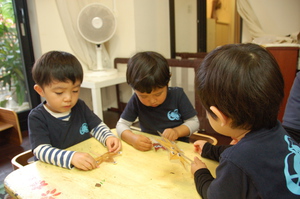 11月15日(木) LadybugとButterfly3はかまぼこ工場見学に行きます。
While the big kids were practising for their Christmas performance today the small kids went out to play in their place. How considerate of them! The weather was neither too hot nor too cold, and everyone had fun.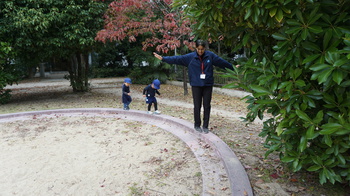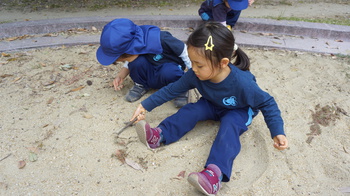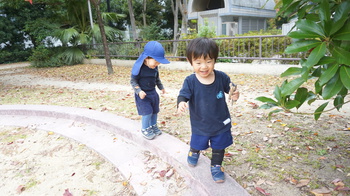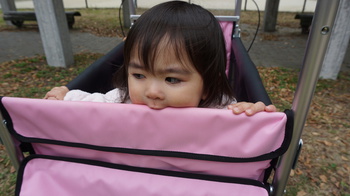 After lunch and Kid-Fit the big kids followed up on their ongoing Reggio project, the ACB Restaurant! Using the food that they had picked out last week they created a menu today. Well done everyone! And good job on the great Christmas practise we had today!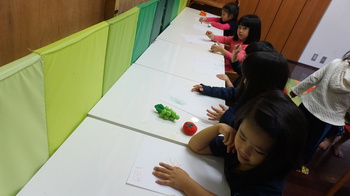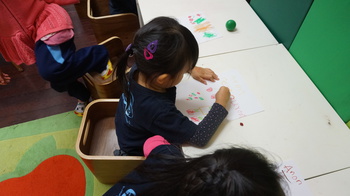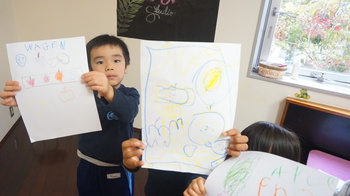 We stayed indoors today!
We made a pizza, did some coloring and sang a lot.
Today's phrase is "Do you like ice cream?"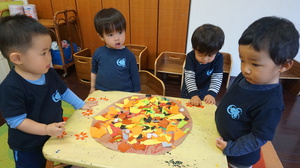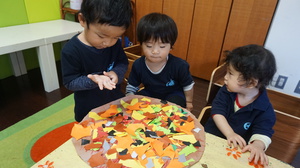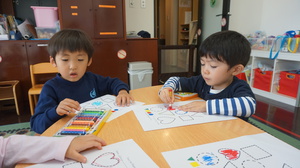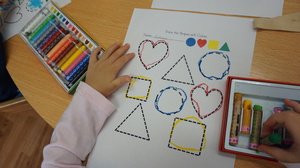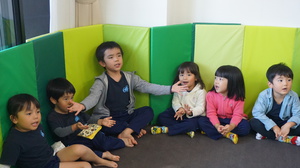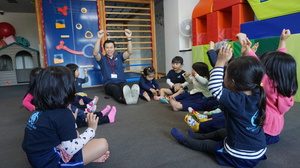 While playing soccer in the park we got a lot of vitamin D today!
During our Reggio Emilia class we learnt about different vegetables and fruits by selling and buying them.
In Kid-fit we played peek-a-boo. Mr Teik couldn't catch us!
Today's phrase is "Come to our shop please!"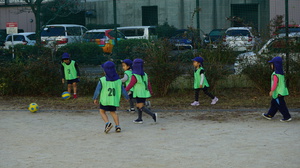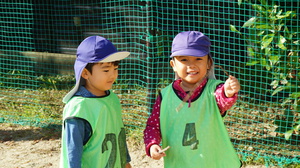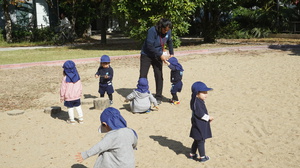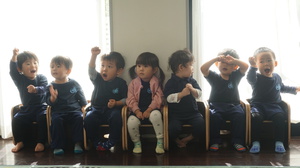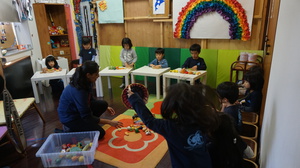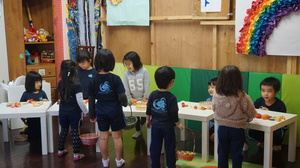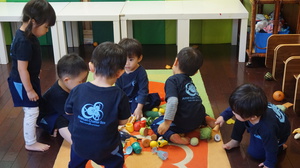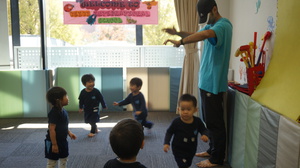 The sun was shining bright but it was not too hot!
What a lovely day to go enjoy nature!
Hence we decided to go to the park today.
We found different types of leaves, played in the sandbox and on the slides in the park.
There was an earth quake drill today and our kids did a good job covering their heads.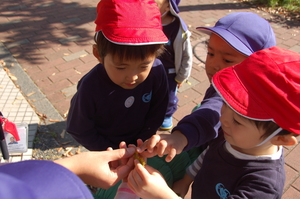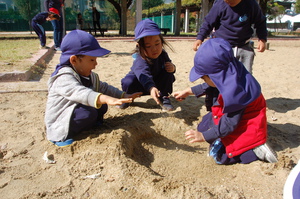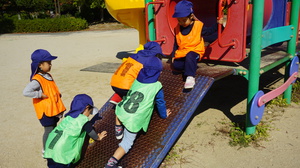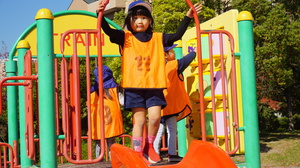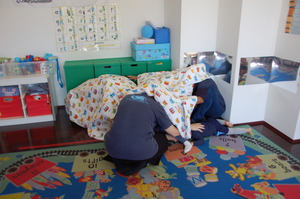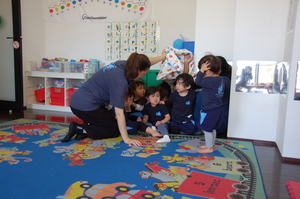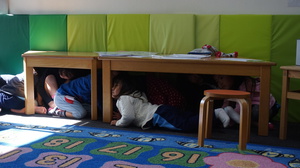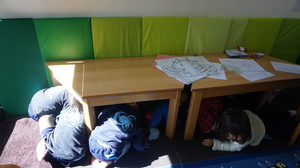 11/5(月) 避難訓練(地震を想定)を行います
<&lt前のページへ|1|2|3|4|5|6|7|8|9|10|次のページへ>>
100件以降の記事はアーカイブからご覧いただけます。