HOME > KEIKIインターナショナルスクールブログ > アーカイブ > 2018年11月
KEIKIインターナショナルスクールブログ 2018年11月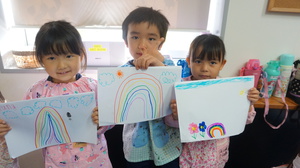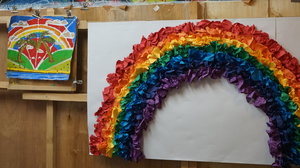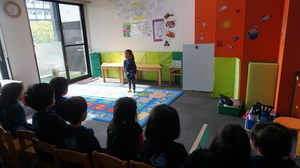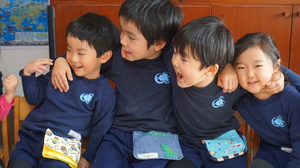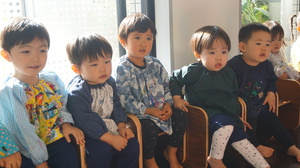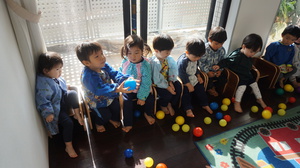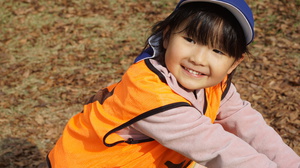 In the art class, the students re-created Mr. Dover`s rainbow artwork.
After that, they practiced for their Christmas performance. They were so
motivated and happy to have Ms. Reiko support and watch them perform.
They happily showed her the famous "POWER" chant they created!
The weather today was slightly warmer than usual so we played in the park!
They enjoyed picking up some acorns, pine cones, dry leaves. They also played
soccer and climb the jungle gym.
Today was a lot of fun!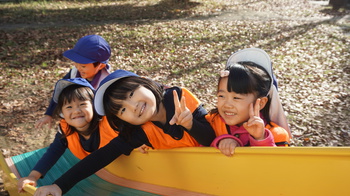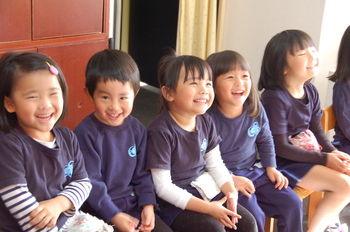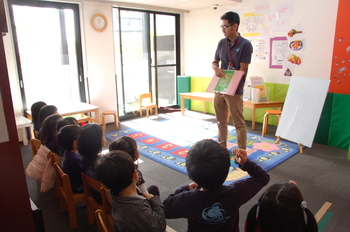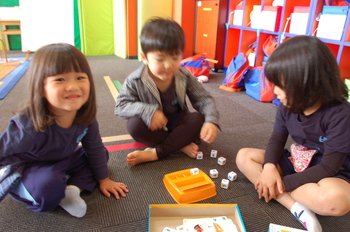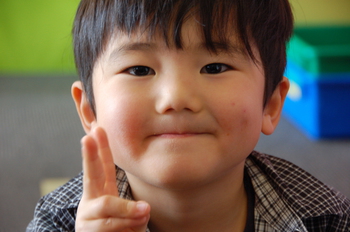 The small kids had a chance to take advantage of the great weather too as they went outside and explored and played around in the park later in the day.
Fall! Autumn!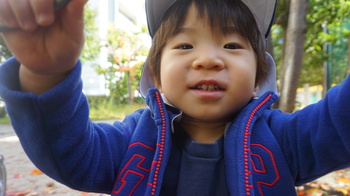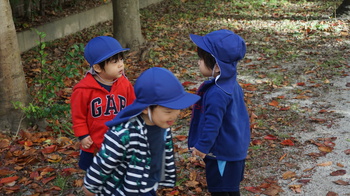 11月のスナックに下記のお菓子を追加しました。
キャベツ太郎 (株式会社 華道)
もろこし輪 太郎 
(株式会社 華道)
フライドポテト 

(株式会社 華道)
Today was Parents Day. Hence our students were happy to take lesson together with their parents.
However when their parents had to leave they were all sad. Although after lunch we had Kid-Fit and music class, so the
students happy to run and sing again!
Today's phrase is "Who is this?"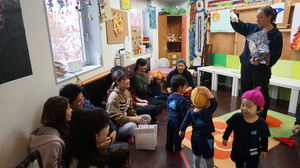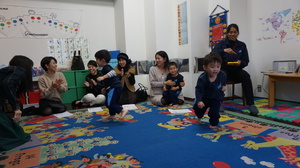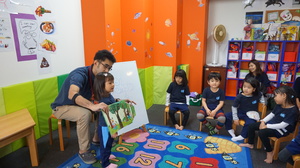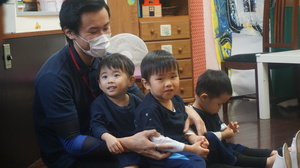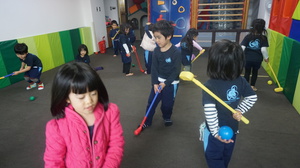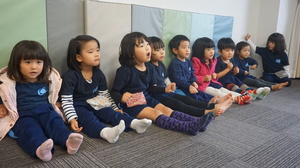 明日(11/28)はKEIKIの授業参観日です!!
皆さまのお越しをお待ちしております。

10:00-11:00 授業参観&ビデオ鑑賞
11:00-11:45 保護者会

※お手紙でもお知らせしておりますが、Team LadybugとButterfly3は"Show and Tell"のレッスンを行いますので、それぞれ発表用に好きなものをお子様に持たせていただきますようご協力をお願いいたします。


Our practice for Christmas is going steady!
However, we need playtime! So, we played a lot on the balcony and watered the plants.
We also played a STEM educational game where we used different arrow marks to reach the grapes.
Today's phrase is "What fruit do you want to eat?"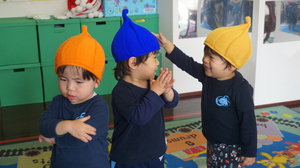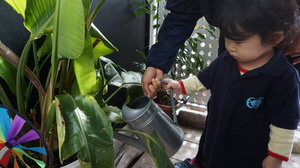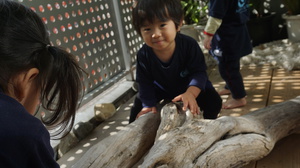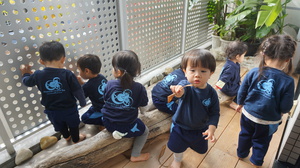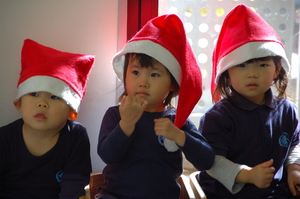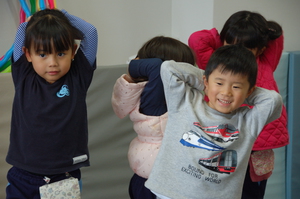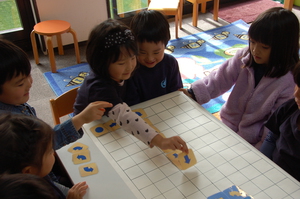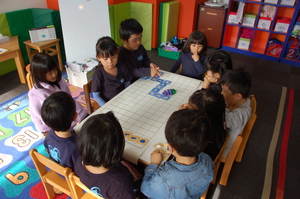 Today, for cooking class we made a delicious looking teddy bear with cookies and sauce.
It might be cold outside but that's not going to stop us from playing and exploring our balcony!
We are very well behaved students in class but there are times when we act silly too!
Today's phrase is "Is it cold?"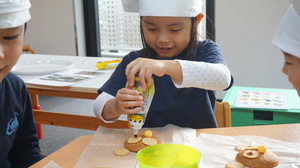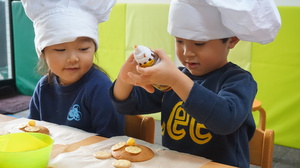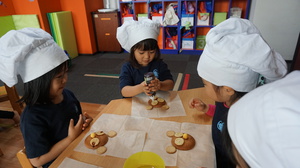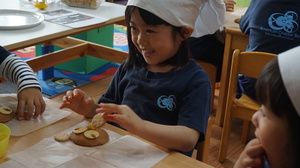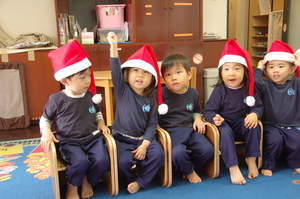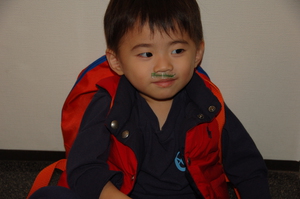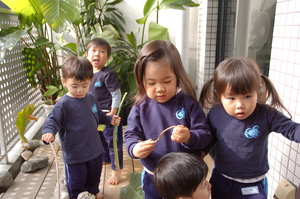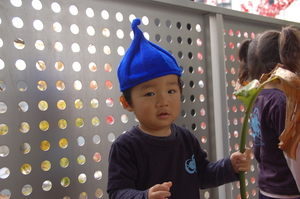 11月26日(月) Cooking クマを作ります。
11月のスナックに下記のスナックを追加いたします。

ライススナック ポンバー (日進堂製菓株式会社)
キャラメルコーン (株式会社東ハト)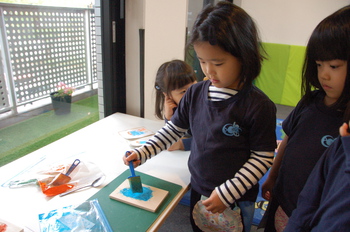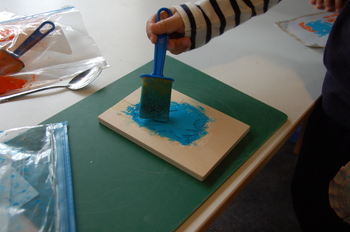 STEAM class saw the students complete their ukiyo-e postcards that they made on Tuesday. Using crayons we wrote messages in the small space; just a few more steps and we are done! After that we proceeded onto Christmas performance practise, and it's heartening to see how far everyone has come.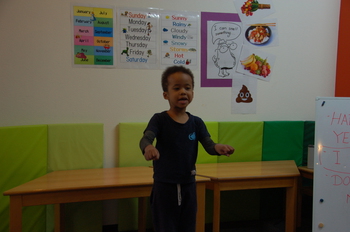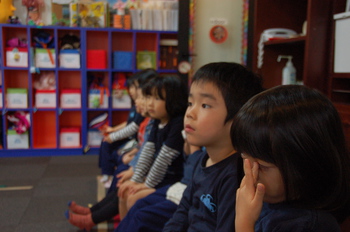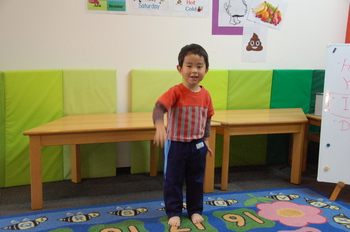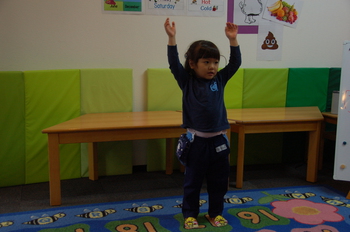 The little kids had a great time in class. With all that energy there was no fear for the cold weather!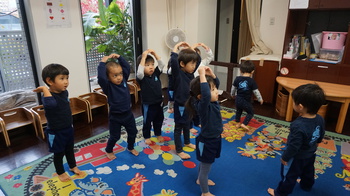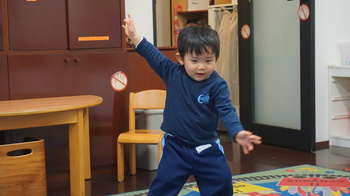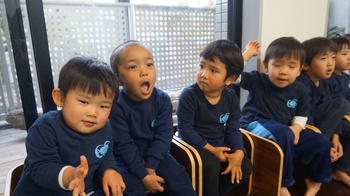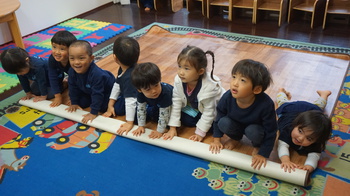 In Reggio the American Chatterbox restaurant had its official launch today. Students were able to order from a menu, and a kitchen staff of able-bodied children cooked up the meals.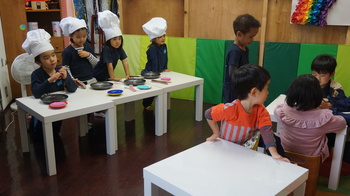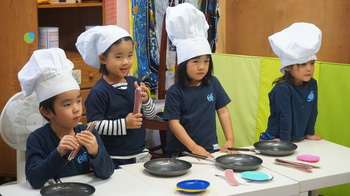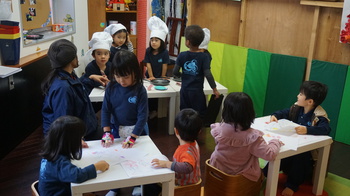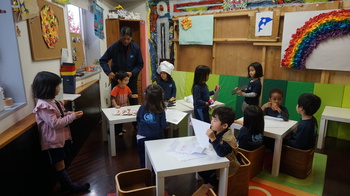 « 2018年10月 | メインページ | アーカイブ | 2018年12月 »